Seminar
Building Brooklyn Bridge
Paul Giroux, Kiewit Corporation
3:30 p.m., September 22, 2022 | 129 DeBartolo Hall
Throughout history advancements in structural design and material science have allowed civil engineers to continually innovate and improve the performance of bridges. Yet, there are many lessons to be learned from past generations of designers and builders that are still relevant today.
May 24th, 2008 marked the 125th anniversary of the opening of the Brooklyn Bridge. Paul Giroux served as Chairman for the ASCE and was the featured speaker for the three day event in New York City. Giroux's in-depth research and perspective as a modern builder are woven together in his presentation, "Building the Brooklyn Bridge" which bring the challenges of the bridge's construction to life.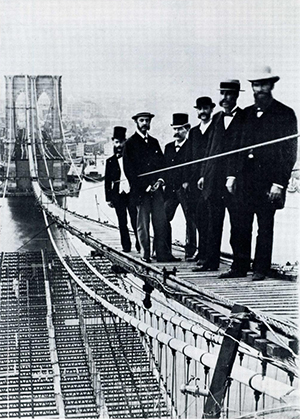 Giroux also highlights many of the lessons of the master builders, John, Washington, and Emily Roebling and the relevance of these lessons in modern bridge design and construction.
In 1958 at the 75th Anniversary of the Brooklyn Bridge, prominent bridge designer David Steinman said, "Today there are bigger bridges – but they never could have been built had not Brooklyn Bridge shown the way. And its story is still the greatest bridge-building story of all." Come and you will learn why this is still true.
The Brooklyn Historical Society called the presentation, "absolutely magnificent."
Paul Giroux received his B.S. in Construction Engineering from Iowa State University in 1979.  He has worked for Kiewit Corporation for nearly five decades and played a key role in the construction of several civil engineering mega-projects throughout the United States.  
Throughout his career Paul has been an active volunteer on several national industry boards and committees. Paul is regarded as one of today's leading civil engineering historians and played a key role in the anniversary celebrations of the Brooklyn Bridge, Hoover Dam, Golden Gate Bridge, Panama Canal, Grand Coulee Dam, and Transcontinental Railroad.
Paul has presented nearly 400 lectures and seminars at over 85 engineering schools as well as many other professional and public venues. He also has been a contributor to Fox News Business's television show "American Built."  
Paul's awards include the ASCE History and Heritage Award, the G. Brooks Earnest Award, and the Roebling Award. He was awarded the AAES's Norm Augustine Award in 2015. In 2016 Paul was elected as a Distinguished Member of ASCE. In 2018 he was inducted into the Iowa State University Construction Engineering Hall of Fame. In 2022, he was elected a member of the National Academy of Construction.