Seminar
Engineering South Bend in a Post-Covid Economy
Dr. Kara Boyles, City of South Bend
3:30 p.m., November 17, 2022 | 129 DeBartolo Hall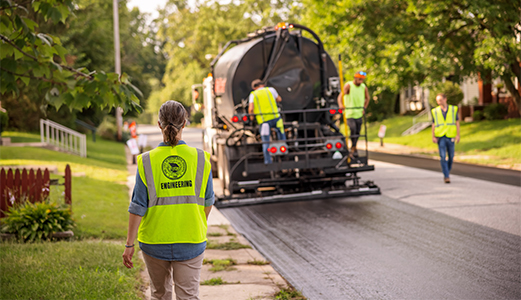 The pandemic has been one of the greatest challenges to face municipal governments for decades. On an individual level, residents have dealt with sickness, quarantines, loss of income, and unfortunately the loss of loved ones.
Cities like South Bend felt the systematic challenges of falling short of projected revenues, shifting as necessary to remote work and then losing employees as part of the Great Resignation. Yet even before the pandemic, local governments have been confronting challenges of many sorts, such as a lack of sufficient infrastructure funding, climate change, opportunities for economic growth, and maintaining engagement and trust with residents.  
As South Bend City Engineer, Kara and her team are responsible for building the foundation for a stronger future through improvements to city infrastructure. This includes projects and programs related to our streets, lighting, and other neighborhood infrastructure, in addition to our digital infrastructure, as well as water and sewer systems. The work they perform and the decisions they make directly impact the quality of life for our citizens.
Kara will share South Bend's experience, a story of overcoming challenges and creating opportunities in the wake of the current economic environment.
Dr. Kara Boyles became the City of South Bend's first female city engineer in January 2017, bringing extensive experience from her background in both the public and private sectors. As city engineer, she oversees the design, construction and inspection of all public works projects. She has played an integral role in South Bend's comeback by spearheading some of the largest infrastructure projects in the City's history.
A registered professional engineer in Indiana, Kara is a member of the American Society of Civil Engineers, Society of Women Engineers, and the American Association of University Women. She also teaches a community-based project leadership course at the University of Notre Dame where engineering students experience what it is like to take a project from concept to completion, as well as gain hands on experiences in the field.
Kara holds a doctorate in civil engineering from the University of Notre Dame. She earned a Master of Science and Bachelor of Science in civil engineering from Bradley University. She is currently pursuing her MBA at Indiana University South Bend.
Kara received the 2020 ATHENA award from the South Bend Regional Chamber of Commerce for her career success, community service and for actively assisting women in their achievement of professional excellence and leadership skills.