Edison Lecture
How I Learned to Stop Worrying and Love the Biofilm
Jeseth Delgado Vela, Howard University
3:30 p.m., November 10, 2022 | Eck Center Auditorium
Amidst growing challenges such as urban densification, climate change, aging infrastructure, and pandemics, engineers must develop an equitable, environmentally sustainable, and resilient urban water cycle. I will highlight results from modeling and lab scale systems showing how biofilms present an opportunity for achieving these advances. I will present a study where biofilm technologies can help reduce energy requirements, chemical addition, and greenhouse gases related to treatment. I will show also show how biofilm treatment processes may provide the potential for enhanced process resiliency.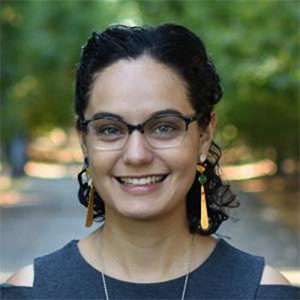 Lastly, I will discuss our ongoing work where we are trying to control who grows in a biofilm or prevent biofilm formation. By integrating modeling and experimental approaches across multiple scales, I uncover unique insights into microbial processes in our urban water system.
Jeseth Delgado Vela is an Assistant Professor in the Civil and Environmental Engineering Department at Howard University. Her research applies tools in molecular biology to develop sustainable and cost-efficient urban water treatment. She is interested in understanding microbial community interactions to improve the urban water cycle. She received her Ph.D. and master's degree in Environmental Engineering from the University of Michigan. She received her bachelor's degree in Civil Engineering from the University of Texas at Austin. She is a recipient of the Ford Foundation Dissertation Award (2016), was named an Early Career Research Fellow by the Gulf Research Program in 2021, and was awarded an NSF CAREER Award in 2022.